Teleconference with Craig Dietrich
Excerpt playing:
(choose from the outline below)
Jump to an excerpt:
Introduction
Mapping as digital humanities technology
Networked Archives
Archives for indigenous groups
Should information be free in all contexts?
Scalar as publishing tool that interfaces with archives
Interaction between Traditional Knowledge labels and Scalar
Archival control over viewing material online
Game logic in publication systems
Community annotation
The Next Big Thing is metadata
Omeka and the Neatline plugin
Digital humanists as technological leaders
How to try Scalar or Mukurtu
This teleconference is a project of the University of Maine's Digital Curation program. For more information, contact ude.eniam@otiloppij.
Timecodes are in Hours: minutes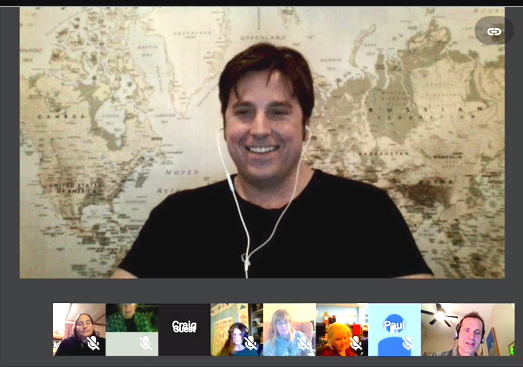 In this teleconference, Craig Dietrich joined students of the UMaine Digital Curation graduate program to answer questions about how culturally sensitive archives and linked data can break the monoculture of one-size-fits-all paradigms for access and publication.
Dietrich was the first lead developer of the Mukurtu Archive, a media manager based on the Warumungu community Dillybag that supports social practice rather than the legal and economic strictures exemplified by Digital Rights Management. Apart from his work with Aboriginal Australian communities, Dietrich has also contributed to open-source archives designed for Native American protocols.
A key member of the team that produces Vectors: A Journal of Culture and Technology in a Dynamic Vernacular, Dietrich authored the Dynamic Backend Generator in 2005, a MySQL database manager and "intellectual sketchpad" that has been used by a variety of digital humanities projects including Public Secrets, Blue Velvet and Killer Entertainments.
In recent years Dietrich gained renown as Info Design Director for the Alliance for Networking Visual Culture, which produces Scalar, an online publication platform principally designed with Creative Director Erik Loyer. Unlike prevalent web-based content managers such as WordPress, which Wikipedia claims is used by almost a quarter of the most popular Web sites, Scalar's foundation uses the Semantic Web, which allows for sharing media seamlessly from archives such as the Internet Archive and Shoah Foundation.
His conversation with the University of Maine's online Digital Curation program was recorded on 10 December 2015.
Watch the entire video or choose an excerpt from the interactive menu below.