Excerpt playing:
(choose from the outline below)
Jump to an excerpt
Challenges of an open archive
Archiving social media
Emulation as a service
Preserving networked assets
Webrecorder
Conclusion
This teleconference is a project of the University of Maine's Digital Curation program. For more information, contact ude.eniam@otiloppij.
Timecodes are in Minutes:seconds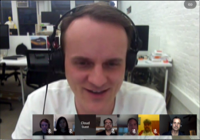 As digital conservator for the prominent new media platform Rhizome, Dragan Espenschied has contributed to dynamic new tools that help preserve social media and helped develop emulation as a service, which allows any user to access outdated software using nothing more than a Web browser.
His conversation with the University of Maine's online Digital Preservation class was recorded on 7 May 2015.
Watch the entire video or choose an excerpt from the interactive menu below.