Teleconference with Anne Knowles
Excerpt playing:
(choose from the outline below)
This teleconference is a project of the University of Maine's Digital Curation program. For more information, contact ude.eniam@otiloppij.
Timecodes are in Hours: minutes
In this teleconference, Anne Knowles joined students and alumni of the UMaine Digital Curation graduate program to answer questions about how geographic data can illuminate history.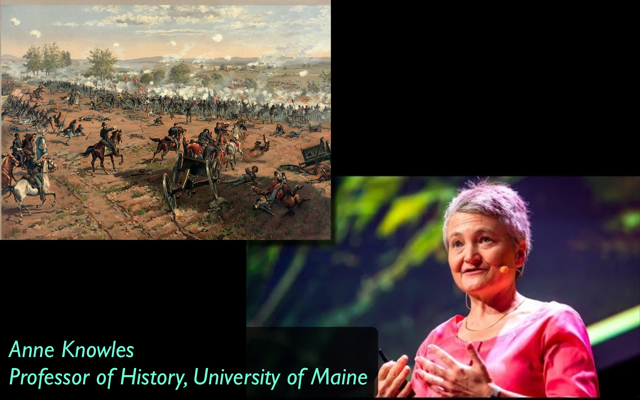 The author of numerous books on spatial history, Knowles is best known for her work in using sophisticated mapping technologies to tell stories about trauma sites such as the Holocaust. She is the recipient of fellowships from the Guggenheim Foundation, the Association of American Geographers, the National Endowment for the Humanities, and the American Council of Learned Societies. Recorded on 18 November 2016, this conversation ranged from what General Lee could see at the Battle of Gettysburg to finding humanity in Auschwitz.
Watch the entire video or choose an excerpt from the interactive menu below.